Jiuzhaigou Valley is a nature reserve in the north of Sichuan, a province in south western China. It is known for its many multi-level waterfalls and colorful lakes, and was declared a UNESCO World Heritage Site in 1992.
It lies at the southern end of the Minshan mountain range, 330 km north of the provincial capital of Chengdu. It is part of the Jiuzhaigou County (formerly Nanping County) in the Aba Tibetan Qiang Autonomous Prefecture of northwestern Sichuan province, near the Gansu border.
The place is dotted with more than 100 gorgeous lakes, which differ from others by having a high concentration of calcium carbonate, so that the lakebeds and embankments are all covered with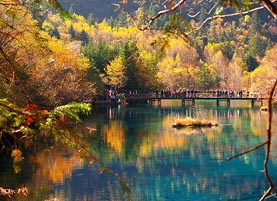 crystals. The water is so clear that the bottom is visible despite depths of several dozen meters. Waterfalls are the essence of the scenery in Jiuzhaigou. They are created between lakes on different levels with water flowing down the cliffs covered with trees. The water actually oozes through the tree trunks into the falls. The trees in the primitive forest are thick with leaves that block the sunlight. As the height and temperature there vary, there is a distinctive distribution of plants, with the broadleaf forest, at the foot of the mountain, and a coniferous forest at the top. In autumn, the mountaintops are covered with white snow while the hill slopes and the valley are a blaze of color.
Jiuzhaigou is composed of three valleys arranged in a Y shape. The Rize and Zechawa valleys flow from the south and meet at the centre of the site where they form the Shuzheng valley, flowing north to the mouth of the valley. The mountainous watersheds of these gullies are lined with 55-km of roads for shuttle buses, as well as boardwalks and small pavilions. The boardwalks are typically located on the opposite side of the lakes from the road, shielding them from disturbance by passing buses.
Most visitors will first take the shuttle bus to the end of Rize and/or Shuzheng gully, then make their way back downhill by foot on the boardwalks, taking the bus instead when the next site is too distant. Here is a summary of the sites found in each of the gullies.