China Travel Guide (CTG) (http://www.xian-tours.cn) is an online China inbound travel service, which is under the management of Xi'an Tianma International Travel Service (XTITS), an international travel agency authorized by China National Tourism Administration (CNTA) in 1992,China Tour Operator in Xian.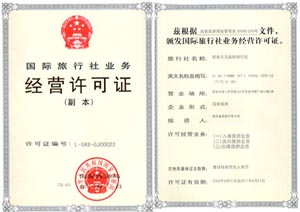 With years of China travel experience, we have made some achievements in China travel industries, which can be seen from the awards we obtained. Lots of tourists join our tours. That is because we have a few advantages different from other travel agencies.

1). We have excellent China tour operators helping tourists make the most suitable itineraries with low price. The tour operators are all well trained and have received high education and are capable of conducting tours in English, Japanese, French, German, Spanish, Italian, Indonesian, Cantonese and Mandarin as well. If you use our service, you will be served with your personal China tour operator. You may ask any questions you want know and you will surely get the satisfied answers.

2). We provide variety of best value China tours and offer tourist the highlight tours, private small group tours, special tour and tailor-made tours. We can help you to discovery China and explore the beautiful landscapes and diversity culture. Our service motto is providing best service, great value tour, and unforgettable experience in China.

3). Our website offers China tour information and China tour itineraries for tourists. Tourists will find useful information they want on our website. We will keep adding the travel information and developing interesting and unique China tour itineraries for tourists traveling to China.

We always keep promises to our dear guests, "your own China tour operator, low price and best service", to make sure that our guests could enjoy a satisfied and happy trip in China.

So, come and join us to cultivate China, this mysterious country with thousand years of history and meet its people, the industrious and warm-hearted people. We will never disappoint you.

We are very glad to cooperate with other agencies to serve the tourists traveling to China with the best tourism products and internationalized service. If you are the one, please contact us by filling the following form.