Dalian is a charming city and second largest in Liaoning Province. Known as the home of track and field and City of Fashion, it is one of the most important industrial bases and seaports in China. With a long coastline, magnificent landscape and a pleasant climate, Dalian has become an important summer resort.
Geographic Features
Dalian, which is located at the southern tip of the Liaodong Peninsula, enjoys a pleasant oceanic climate, cool in summers, and warm in winters. The average annual temperature is 10C (50F). The city receives an average annual rainfall of 620 millimeters, which falls mainly between July and September. The city is surrounded by the Bohai Sea on three sides with a small plain in the middle. The area resembles a tiger's head from above.
People
Dalian has a population of 5.23 million. About 99 percent of the total population is Han nationality. Other ethnic nationalities include Manchurians, Koreans and Mongolians. The main religion is Buddhism and Taoism. The natives speak Dalian dialect, but the official language is mandarin.
History
Dalian was originally settled some 6,000 years ago by the Sushen people. In the early Tang Dynasty (640 A.D), Dalian was known as Sanshan Pu and later Qingni Pu. In 1371, the first Emperor of the Ming Dynasty, Zhu Yuanzhang conquered the Port of Lushun. Dalian was renamed Qingni Wa, which is still the name of a downtown section near the Dalian Railway Station.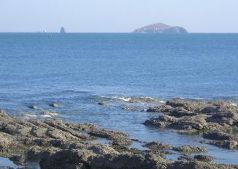 In 1858 Dalian was occupied by the British, and was fortified as a naval base in the 1880s. It was granted, with adjacent parts of the peninsula, to Russia as part of the Liaodong lease from 1898 to 1905 and renamed Port Arthur. It was valued by the Russians for its year-round access to the Pacific Ocean and was extensively refortified for naval use. Dalian was transformed during the same period from a minor fishing village into a modern commercial port. The Treaty of Portsmouth, which ended the Russo-Japanese War (1904-1905), transferred the Liaodong territory to the Japanese, who renamed as Dairen. It was an important Japanese naval base from 1905 to 1937, and was enlarged and modernized. In the early 1940s, Dalian became the main port for Japanese-controlled Manchuria. Following the defeat of Japan in World War II, both ports were placed under joint Soviet-Chinese control in 1945. They were returned to full Chinese sovereignty in 1955.