Located at the southern coastal area of Guangdong Province, Shenzhen is a Special Economic Zone and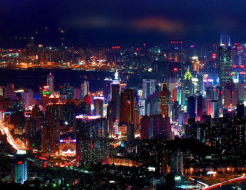 important industrial base in China, with an area of 2,021 square kilometers and a population of 0.8 million.
Shenzhen City joins Dapeng Gulf in the east, the mouth of the Pearl River to the west, Wutong Mountain and Yangtai Mountain ranges to the north, and New Territory of Hong Kong to the south. It, in topography consists of mountains, hilly lands as well as plains along the sea coast, and has a south sub-tropical marine climate with an annual average temperature of 22.4 degree Celsius, rainfall of 1940 millimeters, and a frost-free period of 350 days. Its main mineral deposits comprise granites, lime stones, freshwater sands and clay etc.
Since the establishment of the Shenzhen Special Economic Zone in 1980, Shenzhen has made rapid progress in economy. Its main industrial products are electronics, light industrial products, textiles, garments, foodstuff, building materials, machinery, and chemicals, over half output of which are for export. It has become China's major export production base. In magnetic heads of computer hard-discs, its annual production accounts for 90% of China's total in value, while in diskettes and telephone sets, over 50% in output. Shenzhen has arisen as an advanced foreign-oriented industrial base.
Shenzhen has been endeavouring to better its financial investment environment, and attract more domestic and overseas financial institutions to set up branches or representative offices there. Over 50 Hong Kong and overseas stock companies have been engaged to act as sales agents or brokers for Shenzhen B-shares. Foundation has been laid for development of a new financial center in Shenzhen.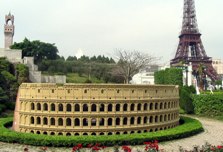 In Shenzhen. It has eight commercial port areas with a daily freight-handling capacity of 30 million tons. Huanggang in Shenzhen is China's biggest port of land transportation. Shenzhen has convenient railroad, highway and air services. As China's key foreign trade port, it is accessible by ocean freighters of ten thousand tons class.
Shenzhen lies along mountainsides and seacoast, endowed with vast sea and shore of soft sands. It has beautiful sceneries, and numerous amusement parks.
Shenzhen Travel, you can visit the famous scenic spots such as China Folk Culture Villages, Splendid China and Window of the World. The key Shenzhen Tourist Spots including The Splendid China with an area of more than 315,000 square meters is one of the largest and most elaborate miniature scenery parks in the world.