Suzhou is a well - known tourist and cultural city, as well as a coastal economic opening area, with 2500 years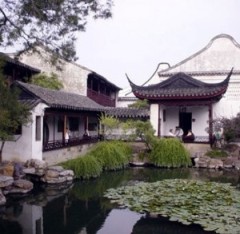 long history. Situated on 30.47-32.02 degrees north latitude and 119.55-121.20 degrees east longitude and bordering on shanghai in the east, Zhejiang Province in the south, Lake Taihu in the west and the Yangtze in the north, Suzhou enjoys a mild and humid climate.

There is the chinese old saying "Paradise in Heaven, Suzhou and Hangzhou on earth." Because the long history of the city has left behind many attractive scenic spots and historical sites with beautiful and interesting legends. The elegant classical gardens, delicate bridges hanging over flowing waters in the drizzling rain, the beautiful lakes with undulating hills in lush green, the numerous scenic spots and historical sites, and the exquisite arts and crafts. In 1999,the GNP of Suzhou was 135 billion Yuan. 690 thousands oversea visitor came here and the total tourist income was 10.9 billion Yuan.