Wuhan, located at the confluence of the Changjiang and Hanjiang Rivers is the capital of Hubei province. It is most famous for its lakes. In fact, it is called "the town of one thousand lakes" because once one reaches the east side of Wuhan, they may feel as if the lakes are endless.

Wuhan actually consists of three districts that used to be individual cities of their own: Hankou and Hanyang on the west bank of Changjiang River, and Wuchang on the east. Next to the Chinese traditional architecture of Wuhan's old city (built during the Qing and Tang Dynasties and mainly located in Hankou and Hanyang districts) lays the new, modern city, built entirely after 1980. Wuhan's booming economy is obviously represented by the never ending construction. Wuhan covers an area of 8,406 square kilometers (3,246 square miles) with a population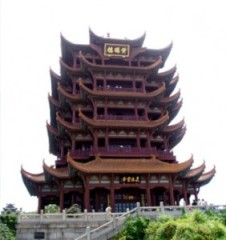 estimated at 7,860,000.

Besides the ever-present Han Chinese ethnicity, you can also find Hui, Ming, Manchu, Miao, Tujia, Mongolian and many other smaller ethnic minorities living or working in Wuhan.

Wuhan is a city with both an old history and a thriving present. Artifacts excavated from ancient tombs date as far back as 3,500 years. In the period of pre-Qing (770 B.C. - 221 B.C.), it was known as the cradle of the brilliant Chu Civilization. During the Qing Dynasty Hankou district became one of the four most well-known towns in China. Hankou city has been the center of trade in central China for centuries.
There are many tourist attractions in Wuhan that are worth a visit including East Lake, Changjiang River and Changjiang Bridges 1 and 2. Wuchang and Hanyang are linked by this great bridge, no. 1, which is more than 1300 meters long and 80 meters high. The completion of the bridge in 1957 marked one of Communist China's first great engineering achievements. A second Trans-Yangtze bridge, no. 2, in northern Wuhan was completed in 1995 and linked Hankou and Wuchang.