When to go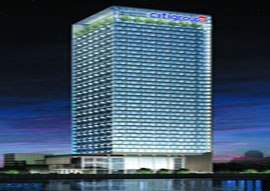 The best time to visit Shanghai is in spring or autumn. The city has a subtropical maritime monsoon climate with four distinct seasons and so, generally, the warm spring and cool autumn are the more comfortable seasons. Summer and winter in Shanghai can be far less pleasant. Overall, however, Shanghai enjoys a mild and moist climate.
Banking
The main Shanghai Branch of the Bank of China is located in the Zhongyin Building at 200 Yincheng Middle Road in Pudong but the bank has dozens of sub-branches located all around the city and foreign exchange service is provided at all branches.
Most banks in Shanghai are open from Monday thru Saturday.
Office Hours: 9:00 - 17:00 Monday thru Friday
9:00 - 13:00 Saturday
Time in Shanghai: GMT + 8
Voltage: 220V 50Hz alternating current
Tipping: About 15% tips is necessary in luxury restaurants and hotels.
Dining: Make a reservation 24 hours beforehand when planning to dine in a well known restaurant. KFC, McDonald's, Yonghe Soybean Milk and Xinya Da Bao provide food delivery.
Toilet facilities: Large shopping malls, fast food restaurants, subway stations, and scenic spots have clean and sanitary toilets. Some are pay toilets but cost no more than CNY 1.
Emergency numbers
Fire: 119
Police: 110
Ambulance: 120
Useful Numbers
Telephone Trouble: 122
Local Telephone Number and Long-distance City Code Inquiry: 114
International City Code Inquiry: 116
Weather Forecast: 121, 221
Zip Code Inquiry: 184
Post Office Customer Service Center: 185
Train Ticket Reservation: 63171880, 8008207890
Bus Ticket Reservation: 56630230
Dialing Code for Shanghai: 0086-21
International long-distance telephone: Dial 00 + country code + city code + telephone number
Famous School
Name

Telephone

Fax

Website

Address

Fudan

University

021-65642660

021-65649416

http://www.fudan.edu.cn/
No. 220 on Handan Road, Shanghai

Tongji

University

021-65982973

021-65983643

No. 1239 on Siping Road, Shanghai

Shanghai

Jiao Tong University

021-62932424

021-62828233

http://www.sjtu.edu.cn/

800 Dongchuan RD.

Minhang District, Shanghai

East

China University

Of Science And Technology

021-64252410

021-64252925

http://www.ecust.edu.cn/
No. 130 on Meilong Road, Shanghai

Shanghai

International Studies University

021-65311900

021-35372000

021-65311900

021-35372000

Hongkou Campus: No.550 on Dalian West Road
Songjiang Campus: No. 1550 on Wenxiang Road

Shanghai Theatre Academy

China

021-62482920

http://www.sta.edu.cn/

Lianhua Campus: No. 211 on Lianhua Road

Hongqiao Campus: No. 1674 on Hongqiao Road

Shanghai

Jiao Tong University

of Medicine

021-63846590

http://www.shsmu.edu.cn/
No. 227 on Chongqing South Road
Nongtang (Shanghai Alley):
Shanghai Nongtang is as famous as Beijing Hutong.
Nongtang,, the habitual residence in Shanghai only, used to be a common residence for Shanghai residents. So many stories, memories, celebrities and the Shikumen have a closed connection. No Shanghai alley, no Shanghai itself, not to mention the Shanghai residents. Nongtang, the most important element of Shanghai architecture in modern times; is the most common living space for hundreds of thousands of Shanghai people. It is also an indispensable part of the modern Shanghai culture.
Nongtang, the Chinese people name it as Shanghai alley, unlike the traditional South Chinese living place, neither any other western architecture. However, it still reminds people of its Chinese traditional style more or less. It is actually a combination of both.
It represents the particular culture Shanghai owns; it is also the most direct result of modern Shanghai.
Shanghai seems to be alive. It is divided into many districts by the roads. Within every districts, there're many passageways between two constructions, full of the whole city just like the capillary vessel, small but vivacious.
Shanghai Acrobatics Troupe:
Shanghai Acrobatics Troupe is a famous professional one in China. Created in 1951, it have been developing constantly in terms of the scale, art, and the contents, gaining a great reputation both here and abroad.
In the Chinese Acrobatics Competitions of the successive terms, "Teeterboard" has won the golden award for three times. Besides, the magic show and the circus act are always attractive and popular
Shanghai Acrobatics Troupe have been cultivated generations of acrobats and lots of stunning performances. There are about 300 times per year to satisfy the needs of tourists from all lands. Meanwhile, they also go abroad to give the wonderful show to foreigners. In the past ten years, they have been to Japan, USA, Canada, Spain, Singapore, Indonesia, Malaysia, Australia and so on.