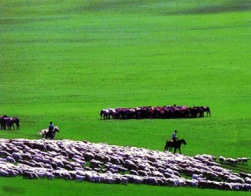 Hohhot, the capital of Inner Mongolia Autonomous Region in northern China, lies between Yinshan Mountain and the Yellow River.
Hohhot, which is Mongolian for "green city", dates from 306 B.C. and throughout its long history has been an important cultural centre of the region. Today it is the most important city in Inner Mongolia and is home to 36 different ethnic groups. Notable among these are Mongolian, Han, Manchu, Hui, Tibetan, Dawoer, Elunchun, Ewenke and Korean. The city zone covers 17,224 square kilometers (6,650.19 square miles) with a population exceeding 1,400,000.
Hohhot is an ideal place to relax away from modern day pressure thanks to the magnificent natural beauty of the Gegentala and Xilamuren Grasslands, and is also home to many fantastic cultural sites such as the Dazhao Temple , Five-Pagoda Temple and the Xilituzhao Palace . Mongolian folk songs and wrestling are popular entertainments while ethnic delicacies and the hospitality of the local people add to the enjoyment of a stay here. Travelers can enjoy a wide variety of activities including horse riding, visiting the home of a herdsman's family or roaming over the vast grassland. The thrilling Nadam Fair is not to be missed.
As a tourist resort, Hohhot has a modern reliable transport network, excellent hotels and large shopping centers. The city brings together specialties from all over Inner Mongolia, ranging from Mongolian silverwares, carpets, cashmere, camel hair products, traditional knives, decorative deer antlers, narrow-leaved oleaster curtain, oatmeal and various dairy products to fancy Mongolian costumes.
A trip to Hohhot will leave you in a peaceful state of mind after what is sure to be an unforgettable experience.