Zhangjiajie was approved as a prefectural city on 18 th, May 1988. by the State Council with the jurisdiction over the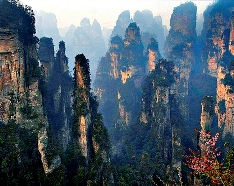 two regions Yongding and Wulingyuan and the two counties Cili and Sangzhi. The city is situated in the west of Hunan Province, covering an area of 4536 square kilometers with the total population of 1, 540, 000, and here live some nationalities of Han, Tujia, Miao and Bai. Its climate belongs to a subtropical monsoon humid climate and annual average temperature is 16C.

The main scenic spot is Wulingyuan consisting of Zhangjiajie National Park, the Natural Reserves of Tianzi (Emperor) Mountain, and Natural Reserves of Suoxi Gully, which still preserve the features of primitiveness, simplicity and nature of Yangtzi Valley 5,000 years ago, The natural scenery xan equal Mount Tai in magnificence, Guilin in elegance, Mount Huang in uniqueness and Mount Hua in a precipitous state. The famous horticultural expert, Professor Zhu Changzhong in Qing Hua University, once said in high praise of it as "Number One Miracle Mountain in the World for its uniqueness of all famous mountains and valleys with the combination of lofty peaks, bridges, caves and lakes: within sight are the forested stone peaks and steep cliffs, densely growing jade-green plants, birds soaring and flowers in full blossom, and the stone caves, valleys and streams which are honeycombing all over the forest park.
Zhangjiajie got known to the world in 1980s, and has become a famous tourist spot for its uniqueness of natural features and primitive charm. In 1982, it was granted the name "the First National Forest Park by the State Council. In October 1998, Wulingyuan was listed as one of the key historical scenic spots by the State Council, On December 7, 1992 it was put into the World Natural Heritage Catalogue by the World Heritage Committee of UNECO, and in December 2000, certified the State AAAA Quality and awarded a golden medal of "the State-level Civilized Scenic Resoft". It was pointed in the Technical Appraisal Report by the Alliance of International Nature and Natural Resource Protection that Wulingyuan can be comparable with some other national natural reserves in the wear part of the United States of America. Indeed, Wulingyuan has natural beauty for its innumerable fantastic rock formations, luxuriant green plants and clear lakes and streams.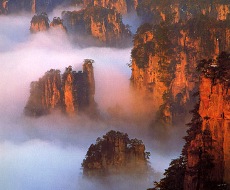 During more than 20 years' development, there have been 12 scenic spots, 30 tourism routes, 300 km tourism road and 2 cableways now. Zhangjiajie railway station links more than 10 large and medium-sized cities with passenger trains.
Zhangjiajie now is becoming well known to the world so as to improve the development of tourism and the facilities for tourism of Zhangjiajie people are carrying on the reform and open policies and trying their best to play an important role in the world tourism.