Kekexili (Hoh Xil), which lies in the border areas of the Tibet Autonomous Region, qinghai Province and the Xinjiang Uygur Autonomous Region, was founded in 1995, covers 45,000 square kilometers at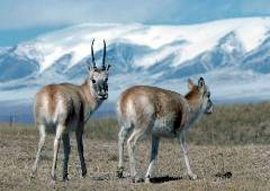 an average elevation of 4,600 meters.
Hoh Xil means 'beautiful girl' in Mongolian. It is one of the main sources of the Changjiang (Yangtze) River and encompasses an area of 83,000 square kilometers between the Tanggula and Kunlun Mountains in the northwestern part of the Qinghai-Tibet Plateau. It is China largest and the world's third largest uninhabited area. Despite its adverse climate, it is a paradise for wildlife and home to more than 230 species of wild animals, twenty of which are under state protection, including the wild yak, the Tibetan antelope, the wild donkey, the white-lip deer, and the brown bear.