As the biggest salt lake in the country, it is also one of the most famous inland salt lakes in the world.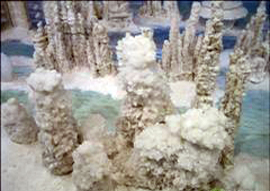 With a length of 160 kilometers from the west to the east and a width of 20-40 kilometers from the north to the south, it has a depth of 2-20 meters salt deposit, an area of 5800 square meters and an altitude of 2670 meters. Its reserve for sodium chloride is more than 50,000,000,000 tons and can be used by the whole world for 1000 years. And it can produce the world famous carnallite which is glittering and translucent. In addition, it is rich in potassium and salt as well as other minerals like magnesium, lithium, boron and iodine. Qarhan is Mongolian word which means the arsh of salt? Located in the Gobi, it is very dry and hot with a long day, and its amount of evaporation is far above the amount of rainfall. For a long time and through out all kinds of weather, high concentration of brine appears and crystallizes to salt in the salt lake, and then the extremely hard salt bed was formed on the surface of the lake.
Though it is flat and wild around the lake, the landscape is unique. The whole lake is the fertile soil just plowed and weeded or is layers of fish-scales. It is a pity that there is no green grass on the land, no swimming fish in the water and no flying birds on the sky, thus it is too quiet. When it is sunny, the vast lake looks like a big mirror reflecting the silver lights, glistering and shining like the gently waving sea. If you are lucky, you can have the chance to witness the wonderful and unpredictable mirage which certainly makes you dazzling. The salt flowers in the lake are beautifully wrought and of various shapes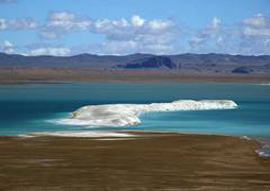 like coral, pagoda, flower, constellation, ivory, gem and so on, which are admirable to everyone and called the blue flowers. Surrounding by the salt flowers, you may let loose your imagination and roam about in the fairyland. The Qarhan Salt Lake also produce the pearl salt, or called the 'King of Salt Lake', as white as snow and as glittering as jade. What's more, Qinghai Potassium Fertilizer Factory is located at its lakefront, which is the biggest one in the country with an annual output of 1000000 tons.
The best time to visit the Qarhan Salt Lake is between April and October.