Tibet City Guide

China Theme Tours

China Tours

Popular City Tours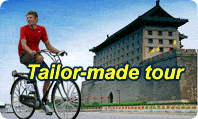 Tibet Nightlife
You may think Tibet is just a'remote' place, if so, you are totally wrong! There you can find the unique night activities that only belong to the sacred land. Go and explore it now!!
Barkhor Street Night Market (八角街夜市):
The Barkhor Street is a must for the tourists and also the best reserved street in Lhasa. It is the center of religions, economy, culture and local crafts even its local customs. At night, it becomes more charming and attractive with the lights shining and all shops and restaurants open. All kinds of street cries and the delicious aroma of the local snacks will be wondering on the street. Just picture it in your mind.
Deji North Road after the reconstruction is one of the image project in Lhasa. This street is famous for its delicious food. If the suitable place to buy clothes is Beijing East Road, then Deji North Road will be a best place to taste delicious and famous food from other place in China. You name it, they have it, such as the Beijing food represented by Jinglaishun, the Muslim Cuisine represented by Xijiang First Dish, the Northern Shaanxi cuisine especially Xianyang local food and even S.Korean barbecue. But as "The Second Sichuan" in the matter of dinning, Sichuan restaurant is definitely the main force on Deji North Road.
For it becoming well-known in Lhasa, more and more sports stores join in, like NIKE, KAPPA, PUMA and so on. So right now, Deji North Road is not only famous for food and snacks, but also a shopping street. Moreover, it provides a place for entertainment, where you can get spa massage to relax and enjoy yourself heart and soul.
Yutuo Pedestrian Street (宇拓路步行街):
Address:It locates between Jiangsu Road and Beijing East Road. It meets Lhasa Shopping Mall to the west and Jokhang Temple to the east.