This town was built about 800 years ago during the Southern Song Dynasty. Owing to it's unique ethnic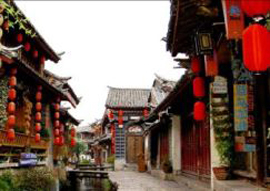 culture and urban layout, this old town (including Baisha and Shuhe housing clusters) was enlisted to be one of World Cultural Heritage in 1997. This ancient town has an area of 3.8 square km with about 30,000 residents living in it. Two major families reside in this town: the Mu Family (the former ruling family) and the He Family. There are three entrances to the Old Town. Strolling causally along the Old Town, you can find beautiful cobbles stone path across the narrow streets. Most of the Naxi's houses were erected along the fast flowing streams in the old town.
Naxi houses
There are two basic types of Naxi houses in the Old Town. The first type has a courtyard enclosed by three sets of apartment and a wall. The second type has a big courtyard enclosed by four sets of apartment. There are also smaller courtyards at the four corners of the
of house, one of which is the entrance.
The Clear Water Stream
The crystal water that flows into the Old town originated from the spring in the Black Dragon Pool.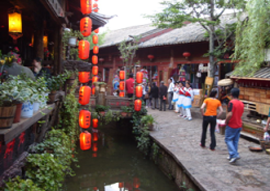 When it reaches the Jade Bridge in front of the main entrance of the Old town, it splits into three different streams: the western, middle and eastern stream. These three streams of water are then further divided into other smaller streams to provide the Town with water.
Bridge:
There are more than 300 bridges of various designs, shapes and sizes in the Old Town. Some of the bridges are illustrated below:
1. Big Stone Bridge
This is a two-arched bridge built about 500 years ago during the Ming Dynasty.
2. Saddle Bridge
This bridge is built over the river just in front of Mu Palace.
3. Ten-Thousand-Son Bridge
The Three-Pit Well
This type of well consists of 3 different pits, which are used for 3 different distinct purposes. The first pit is for drinking only. The second pit is strictly for washing vegetables and the third pit is strictly for washing clothes. This is to prevent cross contamination of water for drinking and cooking purposes.
Square Market
This is located at the center of the Old Town, which was once the most significant market for business and trading.