The development of greater Shaanxi cuisine reached its peak during the Han and Tang Dynasties almost two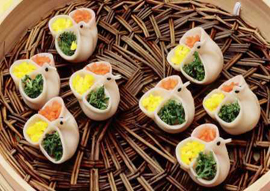 millennia ago. It is characterized as being hearty and salty with a strong flavor, and much emphasis is put on making elaborate dishes out of everyday ingredients. Today, Xian cuisine is heavily influenced by northeastern cuisines, and starches such as breads, noodles and dumplings abound as a main or a complement. This is highlighted by Xian's two most esteemed specialty dishes, Yangrou Paomo and the Dumpling Feast, both of which are based around noodles or breads. With Xian's long history as a cultural melting-pot and its strong Muslim minority; it's no surprise that city snacks in this town are a delight: guantang baozi - steamed buns filled with sauce and rou jia mo, or grilled bread stuffed with minced pork, are just two.
Pork, mutton and freshwater fish are the staple meats in this land-bound province. Steaming, frying and stir-frying are the main cooking methods, and spices from nearby Sichuan make the occasional appearance on the table.
Though China's many flavors are readily available in Xian, foreign restaurants are noticeably lacking and, despite one or two exceptions, you'll have a hard time getting quality steaks or salads.
Xian Dumpling Feast
The Xian dumpling feast was conceived in 1984 by the Xian Dumpling Restaurant, and has since become a city-wide sensation. Diners are plied with a continual stream of tiny, bite-size dumplings (jiaozi) with various shapes and fillings. The Xian Dumpling Feast Restaurant is still standing, allowing the diner to trace this gluttonous culinary experience back to its roots and indulge. Pop into Defachang Restaurant for a similar and equally tummy-filling experience.
Xian Jiefanglu Road Dumpling Restaurant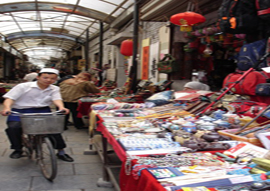 As the originators of the dumpling feast, one would expect Jiefang Road Dumpling Restaurant to wow and dazzle customers with exotic dumplings galore. Indeed, almost 110 varieties of dumplings are available on the menu, stuffed with every imaginable filling and wrapped with a variety of noodles. Cooking methods vary as well, from deep-frying to steaming.
Diners order from one of several set "feasts", and dumplings are paraded out in a steady stream of delicious nosh, each new flavor presented in a round, wooden steaming basket. Don't miss the "peony feast" or the "imperial court feast". The average price is about RMB16 per person.
• Longgong Branch
Add: 168 Dongxin Jie, Xian
Tel: 029-87433556
• Jixiang Branch
Add: South-section of 68 Hanguang Lu, Xian
Tel: 029-88218168