Xian has a lot of shopping outlets for locals and tourists alike. There are many big shopping centers, department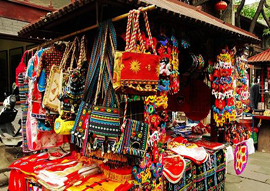 stores and supermarkets in and around Xian city - the biggest and most comprehensive being Kai Yuan Shopping Mall and Century Ginwa Shopping Mall.
Department Stores
Located between the ancient Bell tower and Drum tower, Century Ginwa Shopping Mall is a landscaped square with profound cultural connotations as well as a high quality, exclusive shopping center. The mall opened in 1998 and now houses over sixty world-famous brands for discriminating customers, including Bally, Burberry, Dior, Givenchy, Lancome, Estee Lauder, and other all of which make Ginwa a fashion center in Xian.
Supermarkets
Supermarkets are numerous in Xian and are primarily distributed around universities and communities. However, there are some in the city center and the suburbs that are also easily accessible. The most famous include Vanguard, Ai Jia (IGA), Hao You Duo (Trust-Mart), Yi Chu Lian Hua (Lotus Supercenter), Ren Ren Le, etc.
Shu Yuan Men (The Arts Street)
Under the ancient city wall behind the Forest of Steles in Xian, there is a well-known street in the style of ancient towns - Shu Yuan Men. Both sides of the slab stone road are lined with buildings in the Ming and Qing styles. Various crafts and arts are sold on this crowded street all year long. Historical relics, calligraphy, paintings, antiques, jewels, and folk art fine works are all tourist favorites.