Luna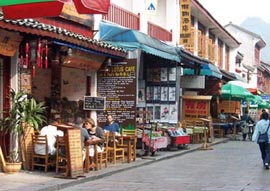 Luna is the Yangshuo Village Inn rooftop restaurant specializing in authentic Italian cuisine. Luna offers the best views of any Yangshuo restaurant. Luna is also a patio bar and café.
Café China
The ground floor offers good Western food. Definitely worth trying is the thick creamy cheesecake and the lasagna with its tender pasta and delicious sauce. Another classic of Café China is William's roast chicken, crispy outside and juicy inside – must be ordered in advance (50 RMB per chicken). The second and third floor have views of West Street and are more up class with Asian art, candle light and big spacious tables. The roof top offers an open air dining experience which is great in the summer months.
Drifters
The best address in town for Apple Crumble and Shepherd's Pie. It's a good place to chat to other travelers and watch the hustle and bustle of West Street with an ice cool beer.
Karst Café
The cafe is not only a good place to hang out and meet other travelers and climbers it also has a range of very good Western and Chinese food and the best pizza in town at great value for money.
Le Votre
More of an up-market dining experience in Yangshuo. Great outdoor dining area located in the center of Yangshuo. The inside of Le Votre is impressive with high ceilings, wood carvings and other Chinese Art and Antiques. It is a French cuisine restaurant; however their menu also covers other International classic dishes.
Night Food Market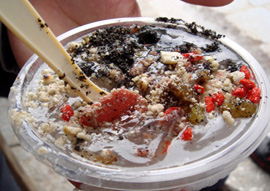 A perfect place for backpackers on a budget and to drink a beer with some friendly locals. The market is a 30 min walk from West Street in the direction of Guilin outside the town centre. The fresh ingredients are displayed on each stall. If you don't speak Mandarin don't worry they also have English Menus to make it easier to order for foreign visitors and you can always point. The prices might be slightly higher than for locals but still very reasonable. You will find all specialties of the region including beer fish, dog hot pot, frog, rabbit, fish head soup, snails and other exotic tastes. The price for fish, frog, rabbit or dog is normally indicated per 500gr on the menu. This is not a luxurious dining experience, you sit under a building on small wooden chairs around a wooden table but it is authentic and not frequented by many travelers. For precise directions please ask at the Yangshuo Village Inn.
Pure Lotus Vegetarian Restaurant
In an elegant setting with old Chinese artifacts adorning the walls and eating area this vegetarian restaurant has an up market feel to it with excellent food.
Rosewood Café
Romantic Atmosphere with often live Chinese music. If the music is a little too intrusive you can always escape to the upstairs dining area and sit on their balcony and watch West Street pass by as you dine. Extensive menu and the food is professionally presented.
Seventh Heaven
In a small side street that branches off West Street near the beginning called Chengzhong Lu this place offers probably the best crispy duck in town with Chinese pancakes and Hoi Sin sauce (and without bones!).
The Here
This place has a distinct South East Asian feel to it with specialties on the menu such as Thai green curry and relaxed bean bags to lounge on upstairs The Here is great place to chill and meet other travelers. Also they do a great Pizza in a log fired oven.
Valentine
Another French restaurant is located at the end of the side street opposite Le Votre. This small but quaint restaurant has an excellent selection of world wines for all tastes and the food is also superb. Pricier than most options in Yangshuo but well worth the money. They also have great cocktails and a seating area outside.