Chopsticks Shop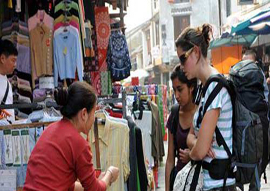 Not only can you get very ornate and beautifully made chop sticks in this shop but you can also contribute towards preserving the environment. Every year millions of tons of wood is used to make chop sticks in China. If you have your own then there is no need to use the small wooden disposable chop sticks that are commonly used in many restaurants through out the country.
Dragon Silk Sugar
A nice little shop front selling a traditional Chinese sweet snack made from sugar cane.
Handicraft Market
This market is located on the promenade next to the Li River starting at the end of West Street. You can buy a whole range of souvenirs ranging from fans made in Fuli to intricate bronze sculptures. This is also a good place to get some shoals and batik style clothes.
The Yangshuo Village Inn's Online Charity Shop also sells some great local products as well as antiques from all over China.
Local Farmers Market
The market doesn't really offer much for tourists to buy but is nonetheless one of Yangshuo's hidden gems. This fascinating local produce market springs to life early in the morning and runs the whole day. Be warned that especially in the meat section, where they slaughter the animals in full view, it can be quite smelly.
Richard's leather bag shop
A great selection of real leather bags all made in good quality. They can be found on Diecui Road. Check out our map of Yangshuo for location.
Stamps
Many shops along West Street and in side streets offer stamp carving on stone that can be used to dip in ink or as a seal in wax. You can buy ready carved stamps or ask for a personal design. They cost about 40 – 80 RMB but bear in mind it is not the size of the stone that dictates the price rather the quality and fineness of the carving as well as the value of the stone itself.
Xijie International Shopping Center
The shopping center is more like an underground network of shops but good bargains can be got here. The staff tends to be a bit pushier than on West Street perhaps because they are away from most of the crowds. If you bargain hard and use the "walking away trick" at the end then you'll be sure to get something for a good price. They mostly sell clothes but souvenirs CD's and DVD's can also be bought. See our Yangshuo Map for location.