Over the years there has become a steady increase in the quality of coffee in Yangshuo. Now there are some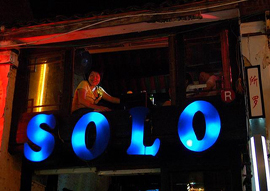 places available that serve really good cups of coffee with beans from all over the world. From laid back chilled cafés to slightly more up-market establishments Yangshuo has a great variety of places to drink a fresh cup of coffee and refreshing Chinese teas. So if you're in need of that caffeine boost or you want to try a Dragon Well or Silver Needle then check out the following cafés.

The Balcony
These guys make a great cup of coffee and have some interesting teas on the menu such as rose bud tea. They also have delicious French Crepes with a range of great fillings. The furnishings may not be as comfortable as the other two mentioned above but the friendly staff and chilled tunes make for a relaxing break.
The Best Coffee
Serving coffee from all over the world this place is squeezed between two shops on West Street with décor that is slightly colonial but comfortable.
The Soul Café
A hip establishment serving good coffee and a range of fine wines and cigars. Look out for the picture on the wall of a woman in a traditionally Chinese posture. Located on Guihua Road this place takes you away from the hustle and bustle of West Street.
Recommended Yangshuo Bars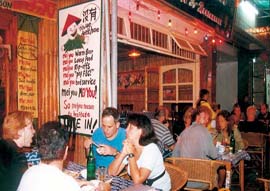 Yangshuo really comes to life at night and is a really atmospheric place to be. With its small narrow streets the mixture of music floods the night air together with the smell of barbequed meat from Xingjiang Kebab stalls and the shouts of people having fun.
There is a range of bars and clubs to choose from including of course some KTV clubs that are endemic throughout China. The below bars are recommended by the Yangshuo Village Inn and are generally popular with Westerners.
Luna
Luna is the rooftop bar at Yangshuo Village Inn. In addition to authentic Italian cuisine, Luna features a great collection of Italian wine and mixed drinks. One of the great thing about this unique Yangshuo bar are the sweeping views of the karst peaks and Moon Hill. Luna is open until late and can also cater private parties.
Bar 98
A great pool area and balcony to sit on during the warm nights, these guys have a great range of drinks and even chill their beer glasses to keep your beer at the perfect temperature. The music tends to be alternative rock and instrumental but is not intrusive and plays in the background. See our Yangshuo map for precise location.
Lizard Lounge
A great place to chill, sip on an ice cool beer and meet other travelers and climbers. These guys have got a great taste in music and with a climbing wall at the back what more could you possibly want? The bar is actually part of China Climb so if you're interested in going climbing or doing an adventure activity you'll be in the right place. Conveniently located next to Karst Café and opposite MC Blues on Xianqian Road.
MC Blues
For the most potent cocktails in town check out MC Blues. A wide range of cocktails and spirits and a variety of music which is mainly somewhere between house and pop. You can find this place on Xianqian Road opposite Karst Café.
Solo Bar
Another bar on Xianqian road this place has more of a local Yangshuo bar feel to it. It is dark and atmospheric and they have OK deals on beers when you buy over a certain quantity. Don't forget to ask for the dice game. A favorite in Chinese clubs and bars that is often used as a drinking game.