Located in the old area of Lhasa City, Tibet, Barkhor Street is a very ancient round street surrounding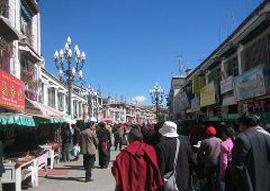 the Jokhang Temple and the Tibetan people are always proud of it. As a symbol of Lhasa, this street is also a must-see place for the tourists.
It's said that in 647, the first Tibetan King Songtsen Gampo (617 - 650) built the Jokhang Temple. Due to its magnificence, it quickly attracted thousands of Buddhist pilgrims. As a result, a trodden path appeared. That is the origin of Barkhor Street. Today even still many pilgrims hold the prayer wheels to walk clockwise there from dawn to dark. Also you can see some pilgrims walking or progressing body-lengths by body-lengths along the street. Even some of them are teenagers or have experienced thousands of miles' walk to reach this sacred place. The way they express their piety could make you understand the holiness of religion.
For tourists, Barkhor Street is a magical place showing the original outlook of Lhasa. The street was paved by hand-polished stone boards. Though it is not broad, it accommodates thousands of tourists every day. Varied shops stand on both sides of the street and thousands of floating stands are on every corner. Most of them offer the prayer wheels, long-sleeve 'chuba' (the Tibetan people's traditional clothes), Tibetan knives and some religious articles for sale. Furthermore, some shops sell 'Thangka (the Tibetan scroll painting), which is a unique art of Tibet with the themes of religion, history, literature, science and customs. Surprisingly, there are some articles from India and Nepal in this street as well.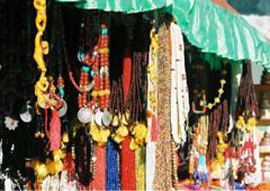 To sum up, Barkhor Street is a place full of religious atmosphere and a world of exotic articles. If you have been attracted by it, you should go there. Believe your eyes, and you will get a lot of surprise there.
In the past, Norbulingka was heavily guarded, with access allowed only to a few with special permission. Now it is open to the public. During the Shotun Festival (yogurt festival) which starts on July 1 of the Tibetan calendar, the park is crowded with people who come to sing, dance and picnic for the celebration.

In December 2001, Norbulingka Park was entered into the World Heritage List as a part of the historical assemblage of Potala Palace.