This ancient architectural complex is considered a model of Tibetan architecture. Located on the Red Hill in Lhasa, Tibet, it is 3,700 meters above sea level and covers an area of over 360,000 square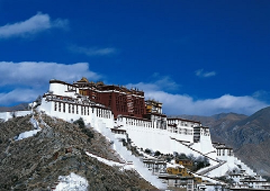 meters, measuring 360 meters from east to west and 270 meters from south to north. The palace has 13 stories, and is 117 meters high.

In 641, Songtsan Gambo, ruler of the Tubo Kingdom, had the Potala Palacebuilt for Princess Wencheng of the Tang Dynasty, whom he was soon to marry. This structure was later burned to the ground during a war and was rebuilt in the 17th century by the Fifth Dalai Lama. Repeated repairs and expansions until 1645 finally brought the palace to its present scale. Over the past three centuries, the palace gradually became a place where the Dalai Lama lived and worked and a place for keeping the remains of successive Dalai Lama.
The stone-and-wood-structured Potala Palace consists of the White Palace and Red Palace. The White Palace, comprising halls, temples and courtyards, serves as the living quarters of the Dalai Lama. The Red Palace includes various chambers for worshipping Buddha and chambers housing the eight stupa that contain the remains of fifth through thirteenth Dalai Lama. All the stupas are covered with gold foil. The most magnificent stupa belongs to the fifth Dalai Lama. It is 14.85 meters tall and inlaid with pearl and jade. The palace also collected a large number of sculptures, murals, scripture and other valuable cultural relics.
In 1994, the palace joined the list of world cultural heritage sites.