The Jokhang Monastery, an example of the earliest architecture in Tibet, can claim to be the center around which the city of Lhasa developed. The legend goes that Princess Wencheng, Tibetan King Songtsen Gampo's Chinese wife in the Tang Dynasty (618-907), had the monastery built by filling up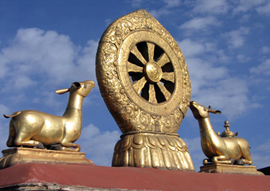 the lake Wothang with the help of a sacred goat. A willow said to have been planted by Princess Wencheng and Songtsen Gampo themselves still grows outside the gate of the monastery.
Built in 648, the Jokhang Temple expanded to the present scale in the 17th century after several renovations. Located on Barkhor Street, Lhasa, it faces west and has four stories with the roofs covered with gilded bronze tiles. It was built in Tang Dynasty architectural style with characteristics of Nepalese and Indian architecture. The main hall is supported by 20 large wooden columns. There are elegant relief sculptures of human beings, birds and animals carved on the bucket-arch beams. A golden statue of the young Buddha Sakyamuni at age 12 brought to Tibet by Princess Wen Cheng from Chang'an, capital of the Tang Dynasty, is enshrined in the center. The statutes of Songtsen Gampo, Princess Wencheng and Princess Chizun, another wife of the Tibetan King are enshrined in side halls.

On November 30, 2000, the UNESCO World Heritage Committee listed the Jokhang Monastery on the World Heritage List as a part of the historical assemblage of the Potala Palace.