Located in northeastern part of Guangxi Zhuang Autonomous Region, Yangshuo lies 63 kilometers south of the region's capital city, Guilin, and is one of the earliest tourist attractions appraised as a "Scenic Spot on the National Level". As a city with a history of more than 1,400 years, Yangshuo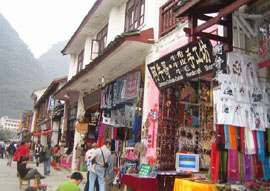 annually attracts 1.5 million tourists from home and abroad. West Street, located in the very center of the city, is 2,000 meters long, and eight meters wide. The road is covered with marble, and boasts various buildings with strong ethnic flavor on both sides. The street is a gathering place for various souvenir and snack shops. The exotic nightscape also adds extra glamour.
West Street, also called 'Foreigners' Street' is a small town street dating back over 1,400 years. Arrays of unique, country residential buildings house all sorts of western bars, cafes and restaurants, Chinese art shops and clothes stalls. Tourists will find a mixed world of authentic Italian coffee, English signboards, and traditional Chinese painting and porcelain works. Do not be shocked when you see an elderly Chinese woman speaking fluent English with a couple of visitors. In the Chinese people's eyes, this simple country street is a 'pretty bourgeoisie' thing, and spending an afternoon of leisure time in a western cafe or bar is very fashionable. Travelers also like to take a break from their exciting and busy travel schedules and enjoy either a cup of the authentic Italian coffee or Chinese tea. Susannah's, Under the Moon, and MeiYou Cafe are very popular choices among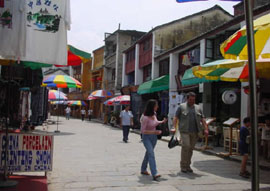 tourists for both their comfortable environments and good service.
Many tourists usually come to the street after their trips in Guilin and to the Lijiang River, and many are say they are overwhelmed by the area's beauty, and then decide to stay. It is reported that the rate of inter-country marriages in Yangshuo is the highest in the nation. Many of the buildings along the street also follow western styles. Most of the houses are three- or four-stories tall, with bell towers and castle-like tops.