Yangshuo was one of the first counties to be appointed a national tourism area. As the old saying goes, "Guilin'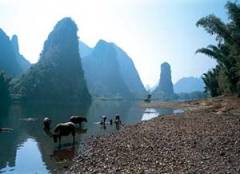 s scenery is the most beautiful in the world; Yangshuo's scenery is far more superior to that of Guilin's." The natural scenery of Yangshuo is unique and like none other in the world. In Yangshuo County alone, there are over 20,000 hills and over 250 scenic spots. The clean and clear Li River winds through Yangshuo for 56 km. On both sides of the river, magical peaks and plush green bamboo trees reflect off the mirror-like surface of the water. The most notable scenic spots of Guilin are in Yangshuo: Nine-Horse Painted Hill, Yellow Reflection Point, Xingping Village, Lotus Cave, Young Scholar Hill, Snow Lion Ridge, the Big Banyan Tree, Moon Hill and Dragon River. Moreover, many consider the landscape of the plains and the villages to be like a beautiful picturesque poem. Amongst the mountains and water are old buildings and old bridges that reflect the rich cultural heritage of Yangshuo. Each year 1.5 million visitors come to Yangshuo.
Geographical Features

Yangshuo is located in northeastern part of Guangxi Zhuang Autonomous Region, south of Guilin and under the jurisdiction of the city of Guilin. Yangshuo County covers an area of 1,428 square km and has 20,000 hectares of land used for agricultural cultivation. It has a population of about 300,000, made up of different ethnic groups such as Han, Zhuang, Yao, Hui, etc.
History
Yangshuo has a long history during which the various minority groups crafted their own cultures, in the form of song, the long drum dance, Cai Diao opera, the dragon and lion dance. There are also many physical historical relics such as gardens, bridges, architecture and carvings.
West Street
The West Street, home to foreign tourists, also the heart of Yangshuo, was built nearby Li River in 590 during the Sui Dynasty. You will never feel alone here. Because most of people speak in fluent English and every restaurant or bar offers menus in several languages. You can enjoy not only elegant scenery here, but also the easygoing life. Many things funny you can do here,such as strolling along the west street and Li River, walking around the local fruit and vegetable market, enjoying the chinese medical massage and snacks, having fun in bar and watching colorful local activities etc. Everything is so interesting that someone says: "It is more than a home, it is a paradise".