General Information
Address: Jia 3, Anding Road, Chaoyang District, Beijing (inside Beijing Olympic Park, north of Asian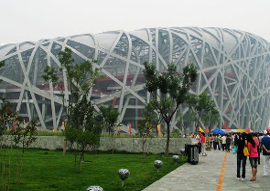 Games Village) Construction Area: 258,000? Seats: 80,000 permanent seats, 20,000 temporary seats
Introduction
The Beijing National Stadium (Bird Nest/Olympic Stadium), as we all know, was the main stadium of 2008 Beijing Olympic Games. This large stadium, shaped like a nest that a baby is breeding in, was designed by Herzog, de Meuron and Li Xinggang, a Chinese architect. Some said the building was more like a cradle bearing the human being's hope to future.
Beijing National Stadium started operation on 24th December, 2003 and finished construction on 28th June, 2008. It is the venue for the opening and closing ceremonies, the Paralympic Games, athletics and football finals. After the 29th Olympic Games in Beijing, the Bird Nest has become the landmark sports architecture and the Olympic heritage.
The National Stadium is the top-grade sports architecture. Its main construction's use age is 100 years. The fire protection rating is first level and the building is of 8 seismic-resistance intensity protection and the underground water-proofing level is first level.
Many experts of architecture fields thought, "The Bird Nest will set up a unique historical symbolic architecture for 2008 Olympic Games, and also will become the evidence of the architecture development of China and the world in the 21st Century.?/p>
Olympic Torch Tower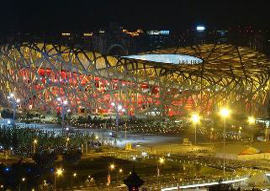 The Olympic Torch Tower, shaped like a huge harmonious cloud, is located on the northeast top of the competition area. On 8th August, 2008, this huge "torch?was lit by Li Ning, former Chinese gymnast and now a successful entrepreneur at the end of the Beijing Olympic Opening Ceremony. The whole stadium was seething at once at the sight of the Torch being relayed and lit in a way out of expectation.
Transportation
Public Bus: 939, 407, 753, 740, Yuntong 113 & 656
Ticket Price
Through-Tickets
100 Yuan (including 30 Yuan for Bird Nest, 30 Yuan for Water Cube, 20 Yuan for National Stadium and 20 Yuan for Olympic Village international zone)
Price for Single Sights
Bird Nest: 50 Yuan
Water Cube: 30 Yuan
National Stadium: 20 Yuan
Olympic Village International Zone: 20 Yuan