The Forbidden City, Overview of the Forbidden City. The Forbidden City or Forbidden Palace (Chinese pinyin: Zijinchéng; literally "Purple Forbidden City"; Manchu: Dabkuri dorgi hoton, literally "Layered Inner City"), located at the exact center of the ancient city of Beijing, just behind the Tian'anmen Square &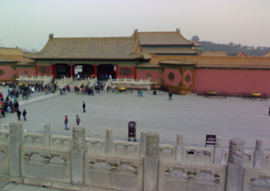 Heavenly Peace Rostrum, was home to 24 emperors. It was begun with the overthrown of the Khan and the glorious Ming Dynasty establishment.
"The Purple Forbidden City", the culmination of all imperial power constructed over a period of 14 years (1406-1420), means the "cosmological power center of the Middle Kingdom". Its extensive grounds cover 720,000 square meters, and at one time supposedly had 800 buildings and more than 8,000 rooms, though there are only 2,172 rooms that remain intact. Each centered on a commanding hall conforms to the dictates of "Feng Shui"; It had been for almost 600 years a mysterious and magnificent manifestation of Chinese cultural tradition and impressive art galleries. Although no longer occupied by royalty, the Forbidden City remains a symbol of Chinese aristocracy and the image of Tiananmen, the entrance to the Imperial City, appears on the seal of the People's Republic of China. The Palace Museum is now one of the most popular tourist attractions in the world. Recently, the site has been under much renovation which has limited visitors to the main courtyards and a few gardens.
The Palace Museum in the Forbidden City should not be confused with the National Palace Museum in Taiwan. Both museums derive from the same institution, but were split after the Chinese Civil War.
Through the visit, the imperial secrecy and collection of treasures will be lifted and the dazzling world of emperor's past will be brought to life.