Hongcun Village, located at the foot of Yellow Mountain, was first founded in the Shaoxing period of the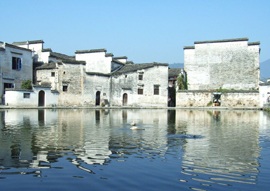 Southern Song Dynasty (1131-1162) and has a history of about 900 years. Today, visitors come to Hongcun to see traditional Chinese architecture, temples, canals, and pavilions as well as experience the Huizhou Culture.
The village is centered around Moon Pond, which gets its name from the pond's crescent shape. The pond is surrounded by traditional houses and ancestral temples. There are 158 residences, most of which were built in the Ming or Qing Dynasties. About 137 of these houses are well-preserved and are great examples of Chinese traditional Hui architecture, which takes into account both beauty and functionality. The Huizhou culture is integral to China's history and values academic and artistic pursuits. It is no wonder than many esteemed scholars have come from this area.
Hongcun is also known for what is known as "House Garden" and "Water Yard", which are formed by villagers rerouting the water in the canals into their houses.
Hongcun Village covers an area of about 28 hectares and lies about 11 kilometers to the southwest of Yixian County. In ancient times, the only access to doing business with Beijing was from Yixian. The Hongcun old village covers 19.11 hectares of land. In 2000, Hongcun was listed into the UNESCO World Heritage and was the set for the famous film Crouching Tiger Hidden Dragon, directed by Ang Lee.
Admission Fee: CNY 80