Xidi Village, located at the south foot of Yellow Mountain, was built in the Huangyou Period of the Northern Song Dynasty and was quite prosperous at the beginning of the Qing dynasty. The village has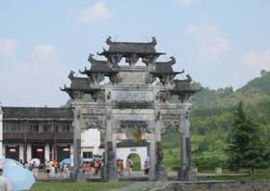 a history of nearly 1,000 years. During its heyday in the Ming and Qing dynasties, Xidi carried out an extensive urban development program, which included constructing houses and ancestral temples and improving the infrastructure. Today, more than 100 old folk houses in Xidi retain the same appearance and structure as when they were first built.
Xidi is an old village where most of the Hu families live. There is a green stone memorial archway that has three rooms, four pillars, and five floors. It was built in the Wanli Period of the Ming Dynasty. The structure is tall and straight, symbolic of the prestige of the Hu family. There are also nearly 300 buildings from the Ming and Qing Dynasties done in the Hui style, where bricks, wood, and stone carvings decorate every building.
Additional attractions include the Lingyun Pavilion, Cishi House, (an official title in ancient time of China) Ruiyu Pavilion, Taoli Garden, East Garden, West Garden, Daifu House, (an official title in ancient time of China) Jing'ai Hall, Lufu Hall, Qingyun House, and Yinfu Hall.
Admission Fee: CNY 80