Tunxi Old Street is located in the center of the old town of Tunxi district. In Song dynasty, Tunxi just was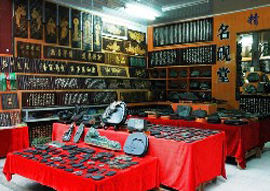 a small fishing village. During the time of late Yuan Dynasty and early Ming dynasty, Anhui businessman, Cheng Weizong invested in Tunxi and established 47 shops, there were 43 shops rented to other businessmen and he just operated 4 shops to store the goods or commodities. Latterly, Tunxi gradually became the center of goods collection and distribution. During the time of Emperor Kangxi in Qing Dynasty, it was the huge town with four miles long in southern Anhui Province.
Because South-Song-Dynasty Government selected Hangzhou as their temporary capital, many big buildings and palaces needed to be established, and a large number of woods and craftsman of Huizhou area were sent to Hangzhou. Just for this, Tunxi architectural style was greatly influenced by Hangzhou's, hence many shopping buildings on the Tunxi streets are all featured of the Song-dynasty architectural style. It is even called the "Current Song City". Tunxi Old Street ever experienced several fire-burnings and also was reconstructed for several times. After liberation in 1949, it was rebuilt thoroughly. Currently, Tunxi Old Street still keeps the architectural style of Song dynasty and the original street appearance of Ming and Qing dynasties. The traditional tea building, restaurants, book shops, ink or ink-stone buildings and the traditional steles bring you back to the ancient times. The newly-built Paifang (a unique local building style in southern area of Anhui Province of China, anciently, in the name of government, it was established for recording and respecting chaste widows who did not remarry after her husband died. ) was established for highlighting the Anhui architectural style.
The length of the old street is 1273 meters, and the walking street covers 895 meters with 5 0r 8 meters wide. The street is all paved by the brown-red stones in order. The whole street is stretched, and people can not see the end of street from starting point. This is the traditional characteristics of Chinese street establishment. Generally, in ancient China, people preferred to write euphemistically, because euphemism means endless imagination beyond the eyesight reach. For linking the streets with mountains, rivers and rear streets, some uneven alleys are served well. There are three famous and broad ones, which are Upper Road, Mid-Road and Lower Road.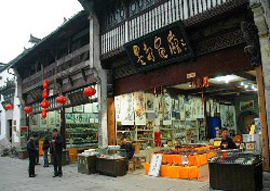 Thanks to its old appearance as an old town in southern Yangtze River, it is crowned as the living Qingmingshanghetu (which in English is Visit Bian River of Kaifeng on Tomb-sweeping Day, it was painted in North Song Dynasty by great painting master, Zhang Zeduan. It shows the perfect landscape and urban life of people on Tomb-sweeping Day in Kaifeng, the capital of North Song Dynasty. It is roughly the first painting showing the common people's capital life. It is now deemed as the national treasure.) and the Oriental Old Roma, hence it attracts a large batch of tourists at home and abroad to visit here and many businessmen to do business here. In the meantime, it is also thought to be the natural sound stage. Hundreds of films and TV programs made here in succession. Now it is the state-level historical and cultural preserved area.