The Tangyue Memorial Archway Group is made up of seven arches that commemorate the qualities of loyalty, filial piety, chastity and charity. The group is located on the road at the entrance of the Tangyu village in the west of Shexian County. The arches are all made by using good quality green stones from Shexian County, and no nails are used in their construction. There are a large number of beautiful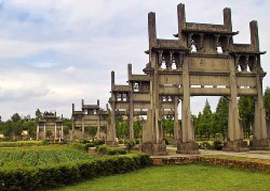 Hui style carvings around the arches.
Out of the seven arches that make up the Tangyue Memorial Arch Group, three were built in the Ming dynasty, and four in the Qing Dynasty. The style of architecture is a successful combination of modern and ancient. These seven arches are: the Baocanxiao Memorial Arch, the Cixiaoli Memorial Arch, the Jiexiao Memorial Arch of Wang, the Wife of Baowenling, the Arch of Kindness, the Jiexiao Memorial Arch of Wu, the Second Wife of Baowenyuan, the Baofengchang Dutiful Son Memorial Arch, and the Baoxiangxian Shangshu (a rank in ancient China) Memorial Arch. All these are memorial arches that serve to commemorate Tangyue village's illustrious Bao family.
The Cixiaoli Memorial Arch was built in the Yongle Period of the Ming Dynasty to honor the father and son Baosheyan and Baoshouxun. They were captured by rebels who wanted to kill one of them and let them choose amongst them who was to die. Both tried to use their own death to save the other's life. To honor the father and son, the memorial arch was commissioned by the emperor. Later, Qianlong, a Qing Dynasty emperor, appropriated silver to repair it and also inscribed a couplet: "There is nothing that comes second to filial love and piety. In the beautiful southern region of the Changjiang River, Tunxi village is the most honored." The memorial archways were respected by generations of Chinese emperors.