The whole residence covers 16,000 square meters. All the ancient houses inside were "transported" here. As many as ten ancient houses, built in the Ming and Qing Dynasties and originally scattered in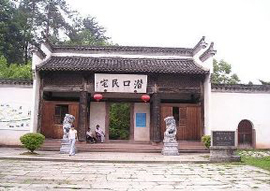 different places within the boundaries of Huangshan City, have been disassembled there and reassembled here strictly following the original shape, even to the details. Those houses originally belonged to people of different social ranks, among whom some were high-ranking officials; some were businessmen while the others were common people.
The complex is a collection of an arch bridge, a curb pavilion, three ancestral temples and four dwelling houses. The restoration work began in 1984, and in 1999 it opened to the public. Located in Qiankou town of Huizhou district, it covers an area of 16,000 square meters and centralizes 10 representative buildings of the Ming dynasty scattered in Huizhou. It remains the original style feature both architecturally and culturally. Known as the "Museum of Dwelling Houses of Ming in Qiankou", it is a must for each visitor.